Rare Polka-Dot Pony Spotted In Devon…
The long nose, curved tail, and neat little hooves are all equine. But its coat is pure Dalmatian.
This young man leisurely crossing the lawn in Devon with his mother looks like a rather impossible mix of species.
He is, in fact, an English spotted pony – born from a chocolate brown mare but with a father just like him.
The foal, rather predictably named Spotty, arrived in the world just a week ago at Wembury Point, near Plymouth.
His family usually lives and grazes on Dartmoor, but were moved to Wembury Point to help munch down the scrub.
The land is owned by the National Trust and the week-old pony was born to a mother who normally grazes wild on nearby Dartmoor. Local warden Lorna Sheriff said: 'On Easter Monday an amazing foal with white fur and black spots was born on the cliff.
'We've nicknamed him Spotty. He looks just like a large Dalmatian. It's very unusual to see a pony with his colourings. 'Most of the Dartmoor ponies we have out grazing are a lovely chocolate brown or cream colour.
'He'll be going back to Dartmoor on Friday to join the rest of the herd until he is a little older to come back and graze here.' Dartmoor ponies roam free on the moor but are moved to Wembury Point to help manage the landscape by keeping scrub down and allowing native wild plants and flowers to thrive.
The foal was born last week but his owners say his real name is Pongo.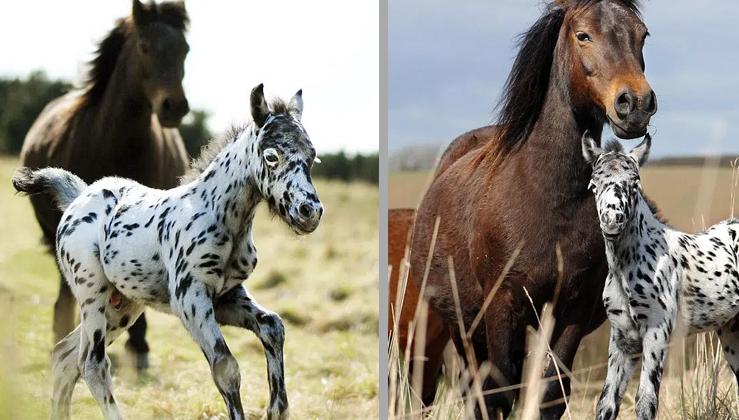 His mother is a Dartmoor pony but his father is a British Spotted pony.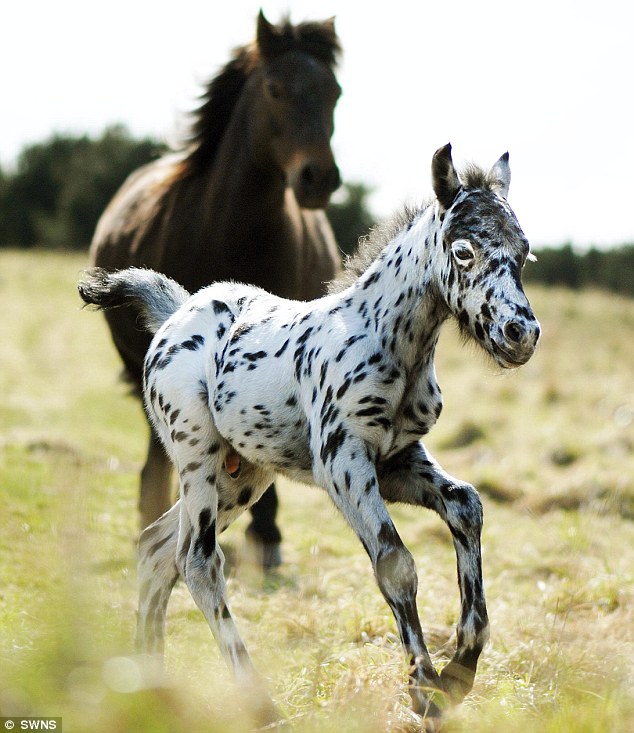 They come in several colour types including 'blanket' where the animal has a plain base coat with a white spotted blanket over its quarters and back.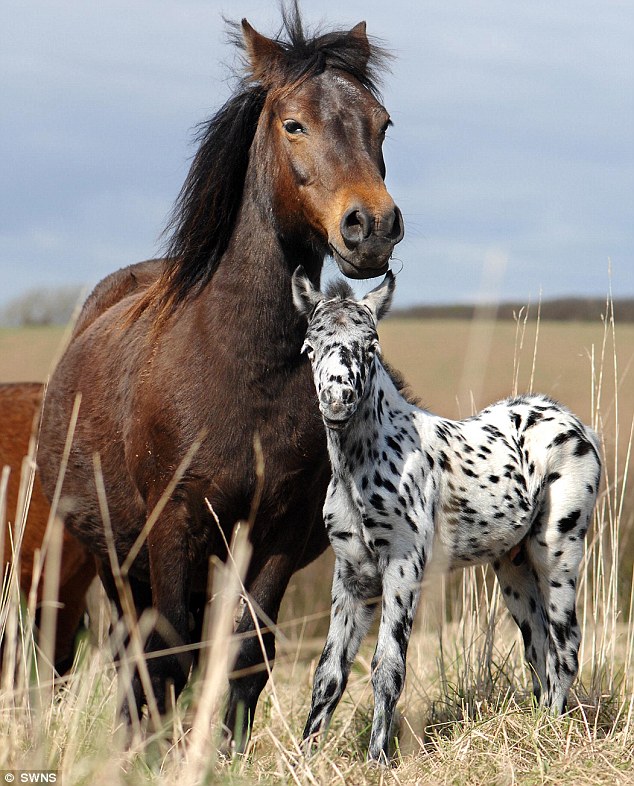 There is also 'snowflake' where the creature has white spots on a dark base coat.
Others are called 'few spot' and have hardly any spots at all. Pongo is a 'leopard spot' because he has coloured spots on a white base coat.
Spotted ponies were once wild in the UK and the coat pattern was a natural camouflage as they roamed the heaths and forests of ancient Britain.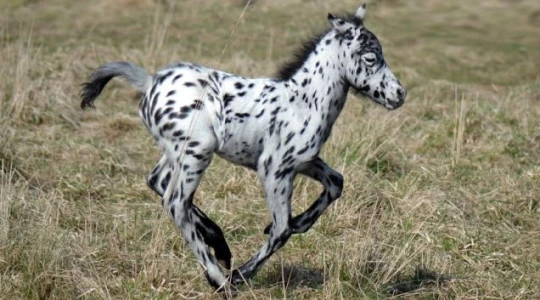 Stone Age man painted pictures of the spotted horses on cave walls and they appeared in many ancient manuscripts and drawings. During Roman times important officers were given spotted horses as a sign of power.
There are currently around 170 spotted horses born in Britain every year.