Acorn Woodpeckers Can Store As Much As 50.000 Acorns in a Single Tree…
Once a team of acorn woodpeckers has had their way with a tree, the tree is left nearly unrecognizable, and covered in small, individually bored holes. It becomes what is called a "granary tree."
These birds make trees into huge acorn stores. Unlike other woodpeckers, which peck insects out of trees, the acorn woodpecker has a completely different way of getting by.
Hoarding food for winter is definitely not unheard of among birds, but the acorn woodpecker's habit of thoughtfully drilling holes in trees and placing hundreds of acorns in them is quite unique.
Its complex feeding and (sometimes dramatic) social behavior make this busy hoarder probably one of the most interesting birds out there.
The acorn woodpecker is one of the 239 species of woodpeckers that make up the family Picidae. It can be found from the coastal areas of Oregon and California, all the way to Mexico and Colombia.
These birds prefer western oak and pine-oak woodlands on higher elevations, but they are also relatively common in urban and suburban areas. It's likely that if you see one, you'll find others soon, since they are organized in families of up to 12 individuals.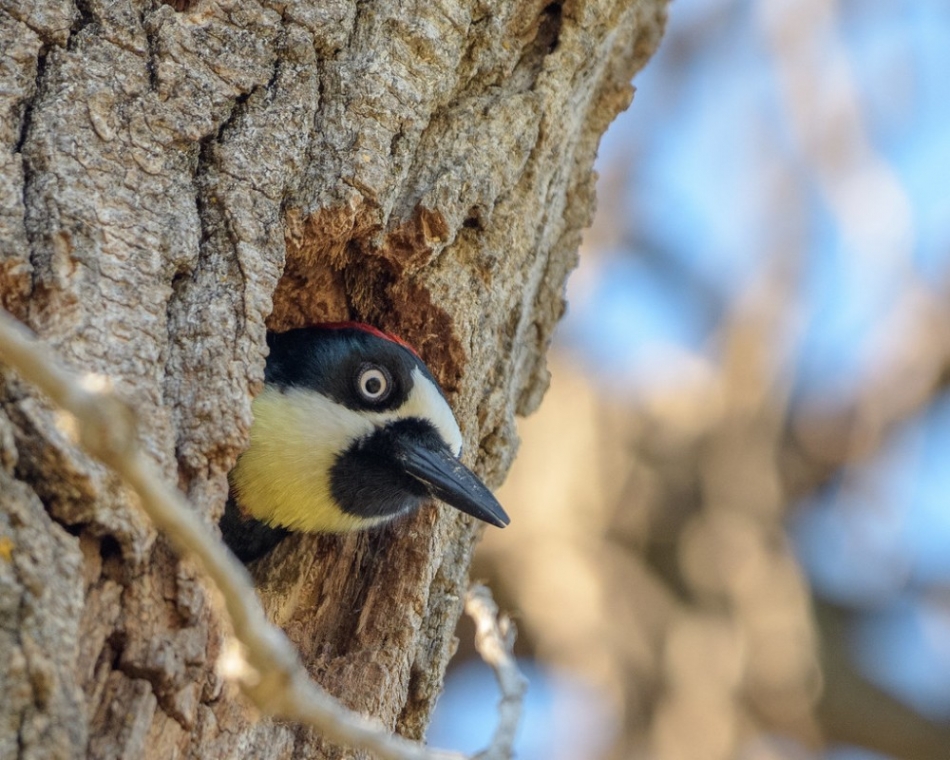 The family units live within a particular territory, and they nest communally.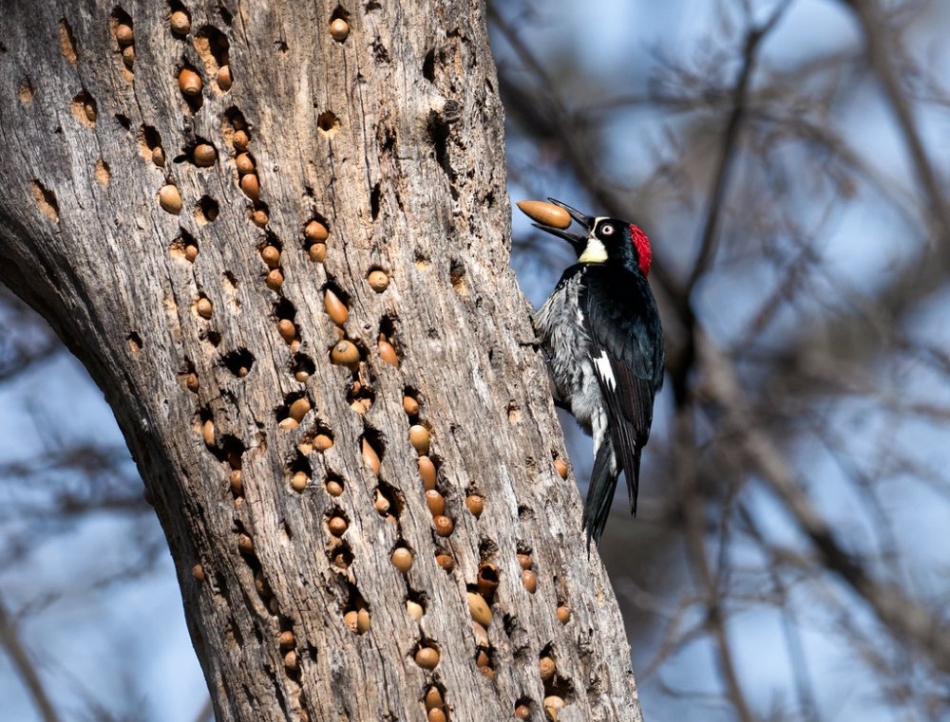 Their nests are usually built in large cavities in dead trees. Therefore, the activities of acorn woodpeckers happen around their tree and within the territory the family holds.
In family groups that have more than one breeding female, all females lay their eggs into a single nest, which results in strange events. When a female acorn woodpecker finds any eggs in her nest, the family will start eating them before every breeding female starts to lay eggs at the same time.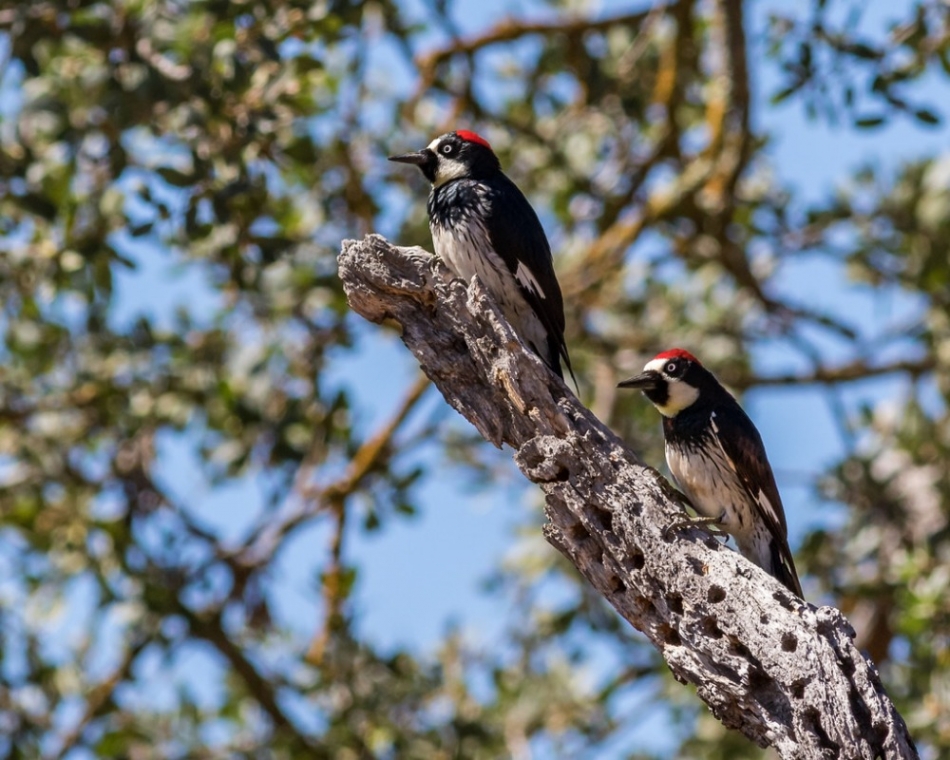 According to Bill Schutt, Professor of Biology at LIU Post and a research associate at the American Museum of Natural History, this is to ensure that not only the oldest eggs have a chance to survive.
"Presumably this is because the oldest hatchling would be the most likely to survive. To eliminate this advantage, the birds will keep eating each other's eggs until they both lay their eggs on the same day, a process that can take weeks."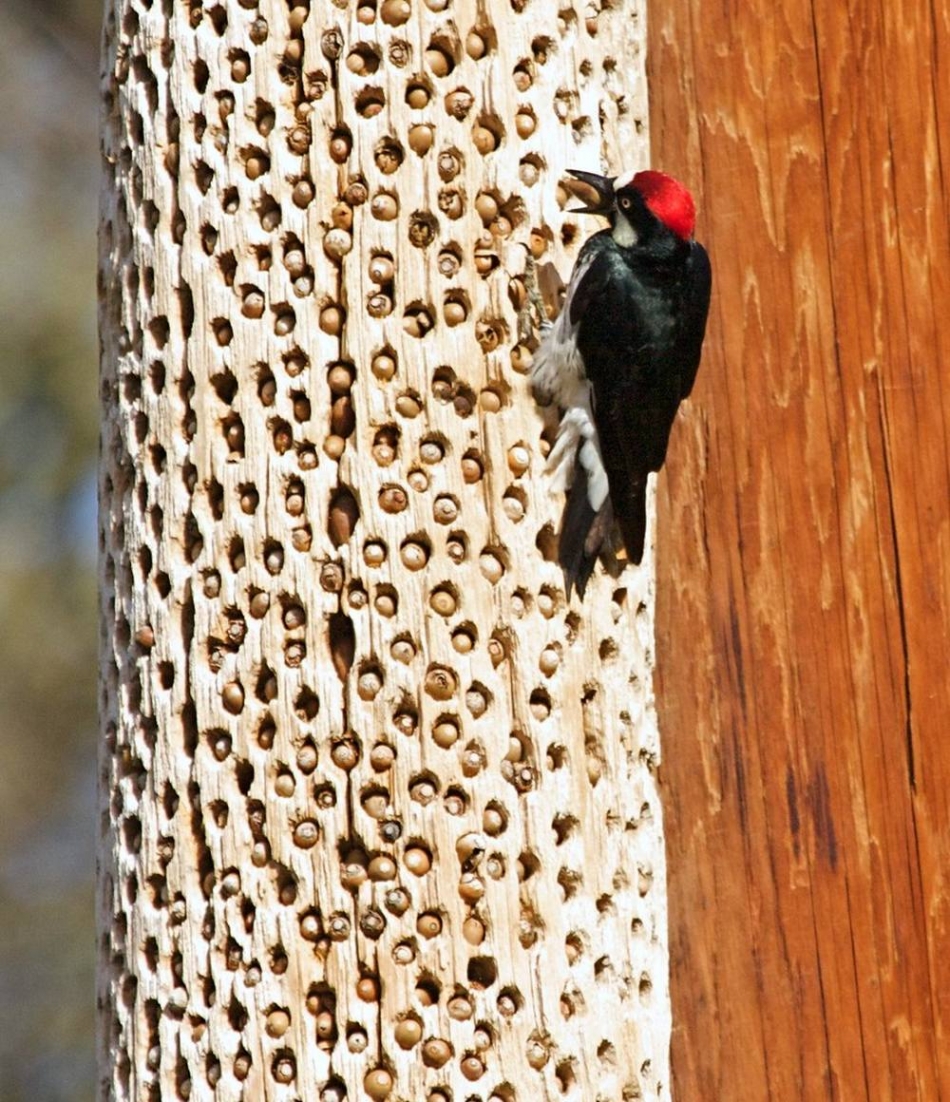 Drilling those holes is a very serious process that requires a lot of precise planning. If the holes are too wide, the acorns can fall out of their place, or in worse cases, other birds may steal the stored goods. Leaving the hole too narrow is risky as well, since the acorn can break or deteriorate.
First, the bird gently pushes the acorn into one hole after another, trying to find the perfect fit for the given acorn. Once the acorn is secured, it goes to put another one into place; and so it goes. The work doesn't stop there, though.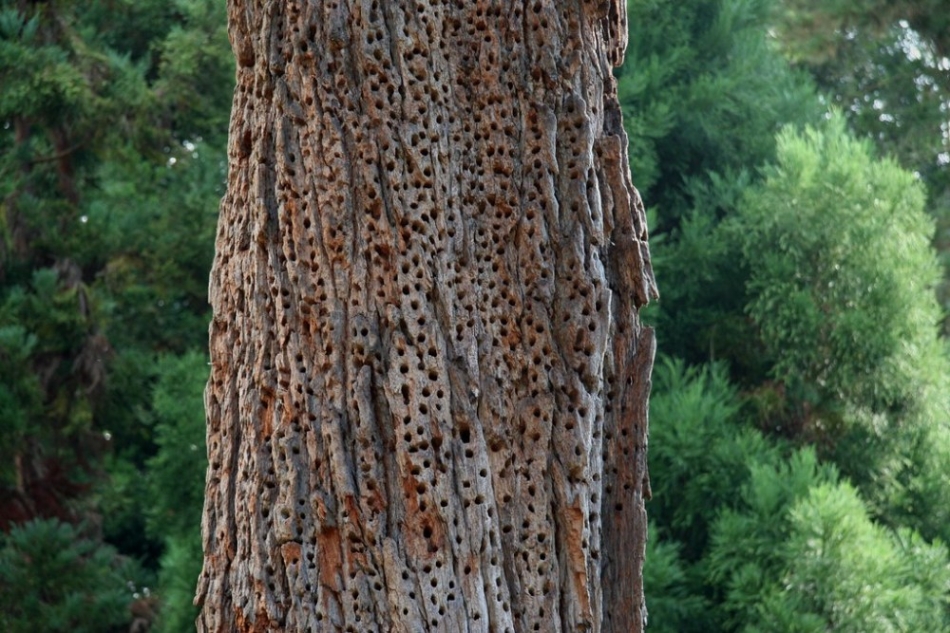 The granary trees require constant tending and the members of the family group need to be on the lookout to defend their stash against potential acorn thieves, such as squirrels or even other woodpeckers. Therefore, one member of the group is always guarding their tree.